My Makeup History: Foundation
Hey lovelies,
I was thinking of doing a little series here on Thrift O'Clock, that is 'My Makeup History'.
Basically, I'll be going through my history of makeup, bit by bit, starting with foundation.
I'll also be doing mascara, eyeshadow, lips, nail polishes and more.
If you read this and want to join in, by all means go ahead!
Regard this as a sort of 'tag' and you're all tagged. Let me know in the comments below if you're going to take part so I can read your makeup history too!
FOUNDATION:
I started wearing experimenting with makeup from the age of about 11, but I never seriously got into wearing foundation until I was about 14. I took my mum into Boots on a mission to get me some makeup and we ended up getting a 17 foundation, two 17 eyeshadows and a 17 blusher. Yes, all from the brand 17 because there was an offer that when you spent £15 you got a free gift of an eyeliner and a few nail polishes. I remember being thrilled - I'd started a collection!
The foundation I got was 17 Sheer Moisture Foundation in the shade Light.
At that age I didn't really care about applying with brushes, I just squeezed some out on my fingers and slathered it on my face.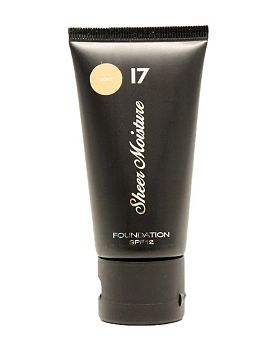 This picture is from the Boots website as I don't have the bottle anymore. It costs just £4.99 so you can probably see why at the age of 14 I was attracted.
It was an... ok foundation, although looking back I probably slapped on too much all in one go and ended up looking a strange shade of cake mixture. But it was all a learning curve!
I then started pinching my sisters Maybelline Dream Matte Mousse and using it with the 17 foundation. I actually really didn't like this foundation, but in my 14 year old mind I probably thought that simply wearing any foundation made me look better. Ha. I know a lot of people swear by this because it covers up a multitude, but for me it probably covered up my natural skin tone and it was drying on my already dry skin.
Again this image is taken from the Superdrug website because I don't still have the pot. The price varies but I think it's somewhere around the £7 mark.
For a while I stopped using foundation altogether until I was about 15. After this break began my love affair with makeup which hasn't stopped yet.
I started to realise the importance of a good foundation so I was willing to spend a little bit more money on one. I'd also started looking up makeup reviews online so I was more educated on which foundations were good for my skin type.
So I bought Bourjois 10 Hour Sleep Effect Foundation for £9.99.
At the time, this was the best foundation ever for me. I'd also started using a brush to apply so it gave me a fresh, dewy and natural look. In fact, I repurchased this again.
After 2 bottles of this, I wanted a change but I knew I liked Bourjois foundations so after reading reviews I opted for Bourjois Flower Perfection Foundation which at first was the new holy grail. It was a pound dearer at £10.99 but it gave more coverage than 10 Hour which is what I'd been wanting, and it still kept the gorgeous smell all Bourjois foundations seem to have.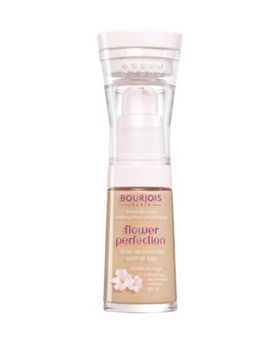 Alas, perfection became perfect no longer. It seemed the longer I kept this, it gradually got darker? I'm pale skinned and I embrace that, so I'd never buy a dark foundation. I bought the lightest in the range and it just seemed to get darker in the bottle as air got to it. Strange. So I set out to find a new foundation.
And that foundation found me!
I had watched Becca from voussontbeauetbelle on Youtube tell me how much she loved a particular foundation.
And what do you know? There was an offer in Boots where if you spent £15 on L'Oreal Paris you got a free gift of two nail polishes and a lipgloss. (can you tell I love offers?)
I needed a new foundation and eyeliner so I bought the L'Oreal Paris Infallible Foundation that Becca loved for £12.29.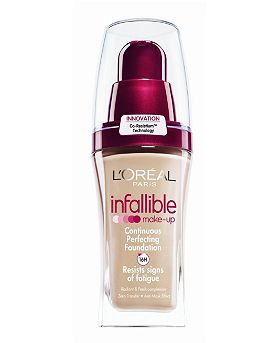 I bought the lightest shade Porcelain and THIS foundation is the best I've tried yet. It's a creamy consistency - one I've never felt the like of again - and the slightest touch on the skin makes your skin, well, infallible. I also got a ton of compliments on my skin when I wore this! The only slight problem was that it needed a powder on top otherwise it tended to slide but that wasn't too much of a problem at all.
It was a tad on the pricey side for a teenager with no consistent income so I haven't bought it since. I needed a foundation that was cheap and worked. I love the majority of MUA makeup so I thought I'd branch out into their BB Foundation.
It's a mere £4, the cheapest foundation I've ever had in contrast to the previous being the most expensive.
Unfortunately, the price was the only upside. There just wasn't enough coverage at all for me. My sister, however, loved this so I gifted it to her after only having used it a few times.
I then stopped wearing foundation to school for a while because I felt more comfortable and confident to do so.
After a while, I still wanted a cheap foundation, but from another brand.
I'd never tried a Rimmel foundation but I had heard good things, so on an offer in Superdrug for 3 for 2 on Rimmel products, I grabbed the new Match Perfection (as well as their powder and a lippy).
It's only £6.99 but is actually on offer in Boots now for £4.99 so grab it quick!
It's received really good reviews and I can't argue. It matches my skin tone really well and has a great consistency too.
This is my current foundation and I think I'll stick with it for a while unless some money falls from the sky and I can afford to buy a more expensive one. It doesn't show any signs of running out soon so I'll at least finish the bottle.
...............................................................
So that's my foundation history up to date!
I've gone through 7 different foundations in about 2 years.
I honestly don't know if that's very little or a lot so please do comment below and tell me how many you've used, it'd be interesting for me as I'm sure it'd be interesting for you too.
Don't forget you are all now 'tagged' to do this so comment below if you're going to do this series too. I'd love to know so I can go and read yours.
Thanks for reading!